Thank you for giving to Jesus Loves Kzoo!
Your tax-deductible gift will be used toward advancing God's Kingdom in our Region, not only through Catalyst Week, but all year long!
To donate by check, write to "Jesus Loves Kzoo" and mail to: 
Jesus Loves Kzoo, 536 E. Michigan Ave., Kalamazoo, MI 49007
Every donation received is critical to ensure that the movement continues.
An outreach with the size and scope of "Catalyst Week" has many real costs.  In addition to the large 'OneWorship' community event at Bronson Park, over 8,000 meals were served at thirteen different Prayer & Grill Sites Monday through Friday and over 5000 bottled waters were handed out while praying with folks in the neighborhood streets! Whew! We are so thankful for every item donated and dollar given!
However, the Jesus Loves Kzoo movement does not stop after Catalyst Week! Throughout the year, the vital "JLK/365" follow-up effort continues. There are also monthly prayer gatherings for leaders and community worship events focused calling the Church to repent, turn, seek and pray together for our region!
Thank you for prayerfully considering sowing into this ministry. We trust that God will multiply all that is given!
Material Needs for Catalyst Week
Food / Paper Products
Hamburgers (pre-frozen patties)

Hamburger Buns

Hot Dogs

Hot Dog Buns

Bottled Waters (cases of 24-32, 16.9 oz or smaller)

Cookies (pre-packaged)

Watermelons

Drink Mix (bulk lemonade or fruit punch)

Chips (large bags)

Plates

Napkins

Freeze Pops for Street Teams

Click Here for Sign-up Genius to let us know what food items you can donate!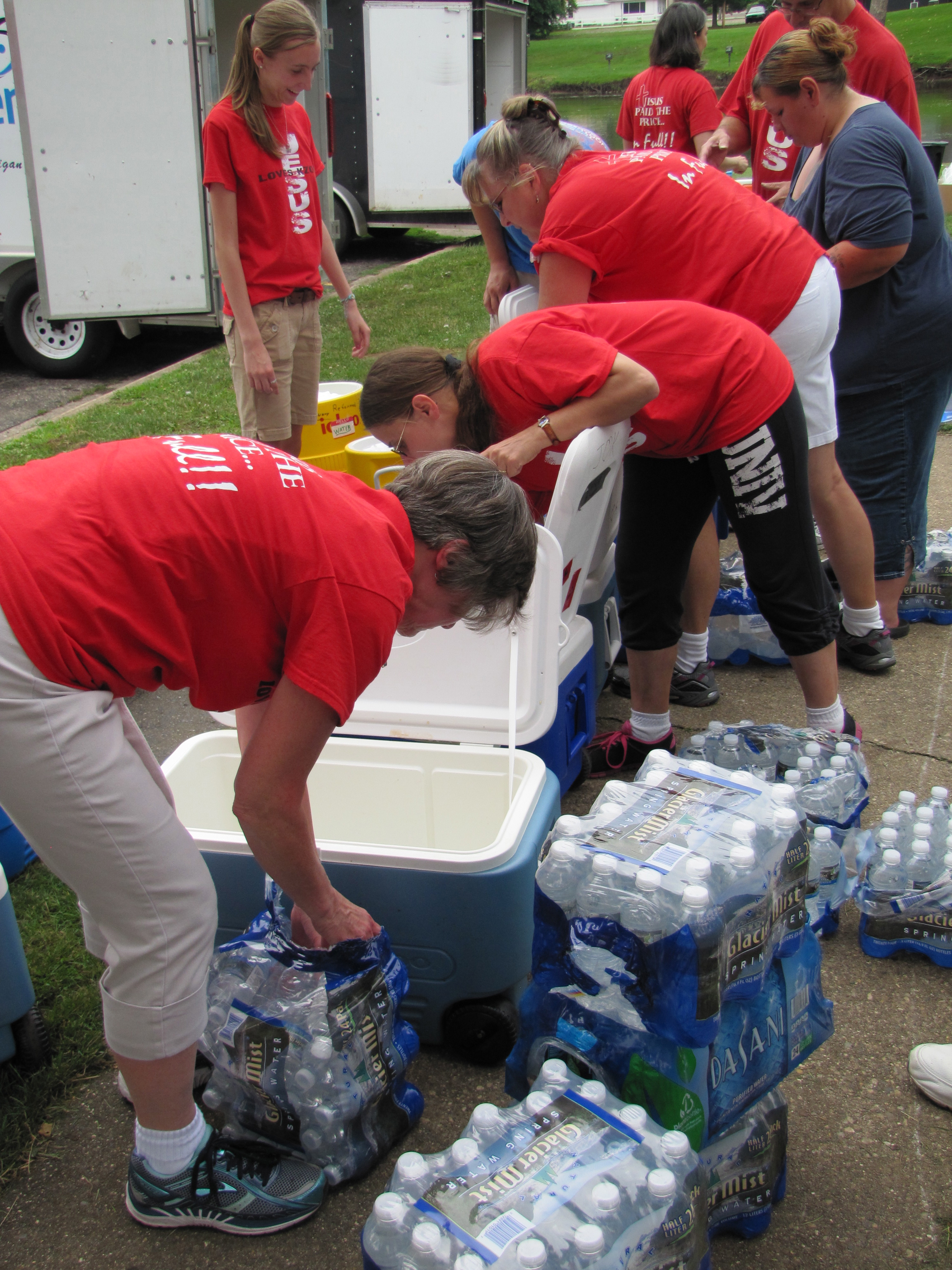 Care Package Items
We hope to distribute over 1000 care packages during Catalyst Week.
We are looking for items such as…
Toothbrushes, Toothpaste, Travel-Size Personal Care Items, Pre-packaged Snacks, Bus Tokens… and more!
Click Here for Sign-Up Genius to let us know what care package items you can donate!
Other Items Needed
Bibles and Devotionals

Small Counseling Booklets

Small Toys for Games Area

Craft Supplies
Rolling Coolers / Trucks / Trailers and More!
We need use of over 60 rolling coolers and over 30 five gallon drink coolers. These will be returned at the end of the week. 
We will need to use of several trucks & trailers throughout the week. Please let us know ASAP if you have one available (and if you have a driver to come with it)!
Some other items we are looking to borrow: grills, canopies, tables, chairs, bounce houses, bubble machines, generators….
Please contact us if you might be able to help with any of these items!